CUPE calls for a higher priority and action on pharmacare
By Pat Van Horne, USW member of the CHC Board of Directors
The Canadian Union of Public Employees (CUPE) says the federal government is long overdue on its promise to Canadians that there would be access to a list of essential medicines by January 1, 2022, as part of the move to a complete universal pharmacare program. CUPE National is a member of the Canadian Health Coalition.
With the mandate letter from the prime minister to the current Minister of Health, Jean-Yves Duclos, the only immediate commitment to a pharmacare plan is to, "Continue engaging with willing provinces and territories towards national universal pharmacare, while proceeding with a national strategy on high-cost drugs for rare diseases and advancing the establishment of the Canada Drug Agency."
However, says CUPE, "the Minister of Health has postponed regulatory changes that would have better protected the public from excessive drug prices.
"It is time to hold the Liberals to their commitment to pharmacare to all."
CUPE notes that, if the Liberal government had followed the recommendations of its Advisory Council on the Implementation of National Pharmacare, Canada would already be well on its way toward universal pharmacare.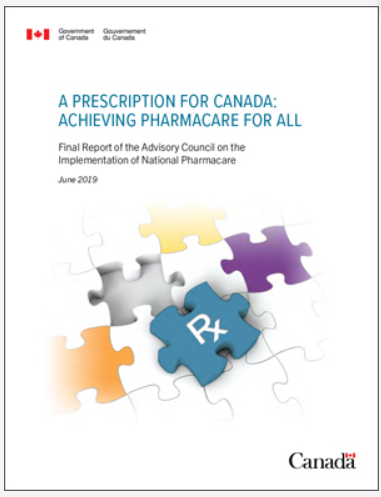 From 2019: "The council recommends federal, provincial and territorial governments launch national pharmacare by offering universal coverage for a list of essential medicines by January 1, 2022."
Hoskins, Dr. E. (2019), A Prescription for Canada: Achieving Pharmacare for All.
"New legislation in line with the Canada Health Act would have been in place guaranteeing comprehensive and public pharmacare," says the union, which represents thousands of health care workers in Canada. "A new Canadian Drug Agency would have been working to lower Canada' steep prescription drug costs. Families would save an average $350 per year."
CUPE reminds readers that Canada remains the only developed country in the world with universal health care that does not include prescription drugs. With the third-highest cost per person for prescription drugs, Canada only trails the United States and Switzerland.
"Canada's current patchwork system of more than 100,000 private and 100 public insurance plans is inefficient, expensive and unfair."
Read "The federal government must pick up the pace on pharmacare" by CUPE National, January 12, 2022