"ER is the canary in the coal mine": Doctors of BC
This week's edition of who is saying what about public health care includes doctors on the emergency room crises, provincial health coalitions mobilizing against private health care, New Brunswick's low spending on health care, the Alberta premier's musings on private health care, and Taiwan's lessons on universal health care.
---
Surrey hospital focus of emergency room crisis
"The emergency room is really the canary in the coal mine, and so the issue is not just singular in its cause, but there are a multitude of causes that have been breeding for many, many years now," Dr. Joshua Greggain, president, Doctors of BC, told Global News, May 24, 2023
"I continue to believe we have the best team. We have all the tools to help people, and we do continue to move mountains to help patients as we need to. Any patient that is struggling, that needs help, please come. We will take care of you," said Dr. Claudine Storness-Bliss, obstetrician and gynecologist at Surrey Memorial, to CBC News, May 29, 2023
Waits have been normalized: doctor
"Not investing is a form of a cut… You have to build infrastructure with expanding population, and that hasn't occurred… The waits have been normalized," said Edmonton ER physician Dr. Warren Thirsk, to CBC News, May 26, 2023
"The people have spoken": Windsor-Essex voters oppose privatized health care
"We know the public system is a more effective, more efficient and more equitable system. The privatized world does benefit some people. There's no question that there are benefits for some individuals, but it's not an equitable benefit. It's not a public benefit. It benefits those that have wealth, those that have opportunity and those that profit from illness and now we have to really question a government that's making health care profitable. What actual kind of consideration this government might have to ensuring that we remain healthy," said Jacob Shelley in response to Ontario Premier Doug Ford's comments about the Ontario Health Coalition's referendum on health care to CTV Windsor, May 30
Time to end violations of Canada Health Act with illegal fees for service: Ontario Health Coalition
"Our public hospitals have been developed over a hundred years. Communities built hospitals to care for victims of the Spanish influenza pandemic of 1918-20. Veteran's memorial hospitals were built after the world wars. Over generations, Ontarians volunteered, fundraised and built our hospitals. They are ours: our public assets, our inheritance, our legacy," wrote Natalie Mehra, executive director of the Ontario Health Coalition in the Toronto Star, May 26, 2023
Kill the health care bills: NB Health Coalition
"We're on a fast train moving toward privatization. Privatization isn't good for New Brunswick, it isn't good for taxpayers and it isn't good for those seeking care," said Daniel Légère, labour co-chair of the New Brunswick Health Coalition, about bills that remove elected representatives from the health care system and adds private delivery of health care services to the Telegraph-Journal, May 25, 2023.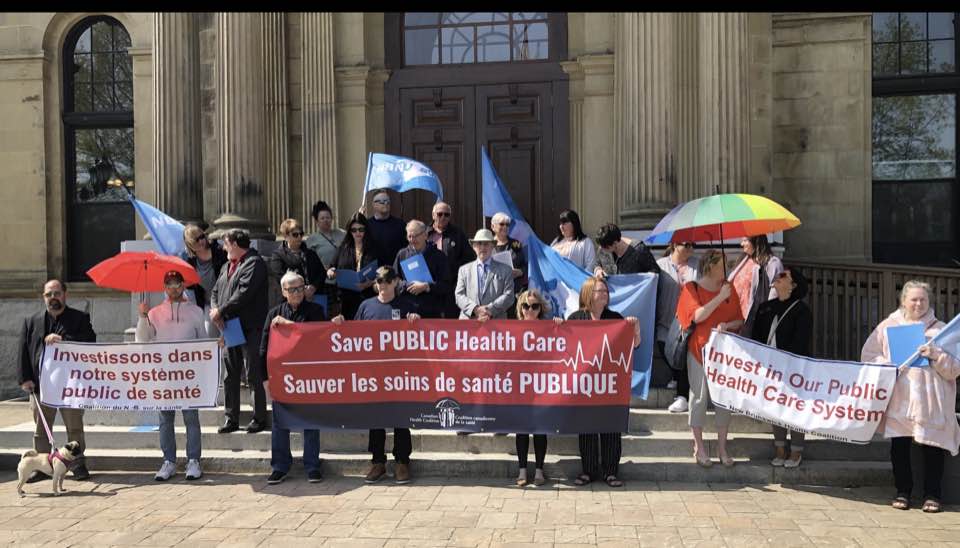 Manitoba Health Coalition wants a review and moratorium on a private sleep study contract
"Manitoba has gone out of its way, time and time again, to put private profit over public health care solutions… This approach doesn't increase capacity in our hospitals and clinics, doesn't save taxpayers money and doesn't improve patient care. Government should listen to what physicians, nurses and allied health care professionals are saying and invest in public health care solutions," said Thomas Linner, Provincial Director of the Manitoba Health Coalition, at a media conference, May 30, 2023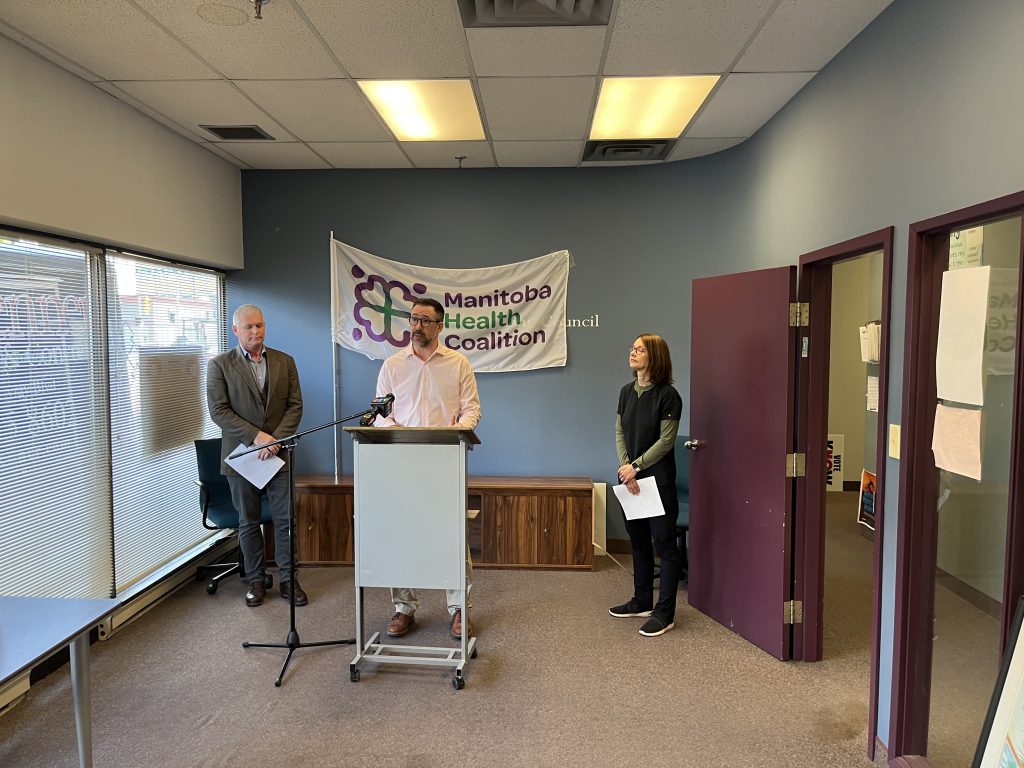 No end in sight to staffing shortages: hospital administrator
"It is worse than last year. With no end in sight to these sorts of staffing shortages, Haliburton Highlands Health Services (HHHS) had to make the difficult decision to consolidate emergency services at one location, in order to ensure it could maintain delivery of emergency services for all of Haliburton County," said Carolyn Plummer, president and CEO of HHHS, to The Canadian Press, May 29, 2023
New Brunswick spent the least per capita on public health care in 2020
"There isn't an ideal amount (of money to spend) globally. What we need to change in Canada is how we base our spending on the needs of the population, of the results of our health service quality," said Stéphane Robichaud, CEO, New Brunswick Health Council, Global News, May 25, 2023
University of PEI says medical school will open in 2025
"We think this is actually an excellent opportunity for recruitment to fill positions that the province currently has difficulty filling. We know there are a number of physicians out there who have identified they'd love to come to P.E.I. to work if there is a medical program they can work within," said University of PEI interim president Greg Keefe, CBC News, May 26, 2023
If only this was true: Re-elected Alberta premier says politicians too afraid to go full tilt on privatization
"Politicians simply don't have the stomach to (adopt) internal markets, allowing private health care providers to proliferate, user fees and implementing co-payment systems," said Danielle Smith about increasing privatization in Alberta, PressProgress, May 25, 2023
A view from the far east – Taiwan has a few ideas for universal health care
"Taiwan established a universal healthcare system in 1995. Since that time, the government has continued to provide disease prevention and healthcare services so that people of all ages can enjoy the right to health… The Taiwanese people have played a pivotal role in the success of Taiwan's antipandemic model by wearing masks, practicing social distancing, avoiding crowded areas, following quarantine regulations, and getting vaccinated. When compared with the 38 Organisation for Economic Co-operation and Development member states and Singapore, Taiwan ranks sixth-lowest in COVID-19 mortality and case-fatality rates. Taiwan also ranks fourth-highest for coverage rates of at least one COVID-19 vaccine dose and third-highest in terms of vaccine boosters administered," wrote Dr. Hsueh Jui-yuan, Taiwan's minister of health and welfare, in iPolitics, May 29, 2023