Health Care with Teeth: A Briefing on Dental Care in Canada
The Canadian Health Coalition's August webinar features an update on Canada's plans to make dental care more accessible and universal with the country's most prominent advocates for dental care.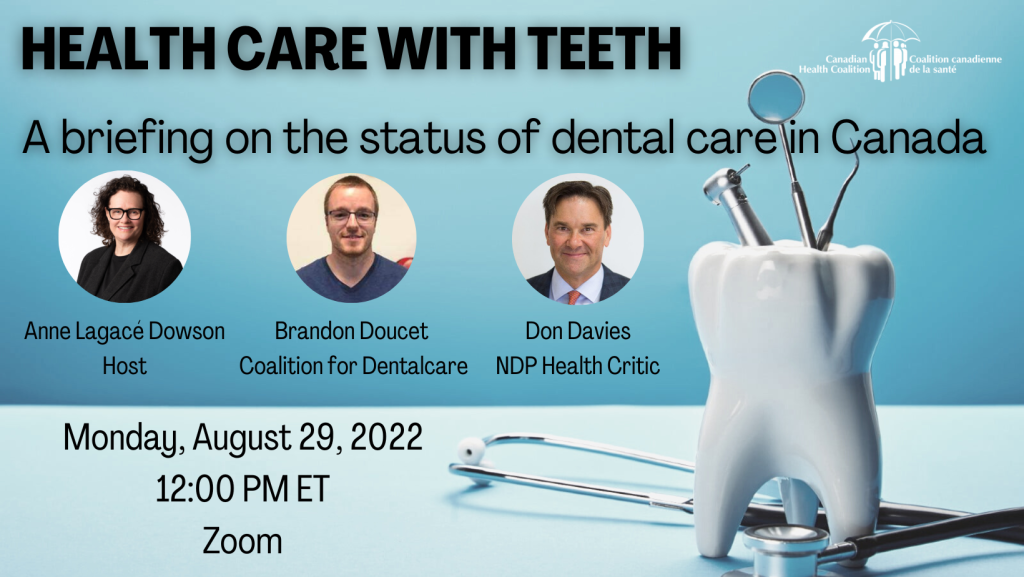 Join us on Monday, August 29 at 12 noon ET for a briefing on why universal dental care is important and what the Liberal-NDP Agreement promises to deliver on dental care.
Guests Brandon Doucet, a dental surgeon and founder of the Coalition for Dentalcare, and Don Davies, NDP Health Critic, will join host Anne Lagacé Dowson, of the Canadian Health Coalition.
Monday, August 29, 2022 at 12:00 PM ET on Zoom.
---
---
Share our Facebook event.
For more information, contact Tracy Glynn at tglynn@healthcoalition.ca.
P.S. Help amplify the voice for public health care by donating to the Canadian Health Coalition today.