Health Coalition presses feds to disrupt provinces' privatization schemes
The Canadian Health Coalition is focusing its attention on privatization plans being touted by some premiers as a solution to the current crisis caused by the pandemic and decades of health care underfunding. We are tracking this much more closely now that these pronouncements are coming out.
"I'm not surprised that whenever we have questions of access to health care…from the public, that the discussion around moving towards more private care comes up. This is like a merry-go-round. This always comes up as a possible solution, and it never works," I told The Hill Times, which is read widely in Ottawa's political circles.
The Health Coalition has been reminding decision-makers of the disaster that unfolded in Canada's long-term care facilities during the pandemic–a situation so dire that the military had to be called in when long-term care systems collapsed, especially for-profit facilities, leaving elderly and disabled residents to fend for themselves.
"This is like a merry-go-round. This always comes up as a possible solution, and it never works."

STEVEN STAPLES, CANADIAN HEALTH COALITION
"Who in their right mind thinks that more private care is going to have better outcomes?" I told The Hill Times, "The fact that these provinces are moving in this direction, or are claiming to move in this direction, could mean that we would see more situations like we saw in our long-term care facilities."
Indications that some premiers are entertaining the idea of more privatization in health care as a solution includes Doug Ford's Progressive Conservative government. It announced a plan on August 18, 2022 to fund more surgeries performed at private clinics as a way to relieve pressure on Ontario's health care system. On August 22, Ford met with Atlantic premiers who likewise called for significant changes to the delivery of services in their provinces.
The federal government's powers are limited where provincial responsibilities for health care comes into play, but Ottawa is by no means a bystander.
The Health Coalition called for federal leadership to disrupt the privatization plans from provinces at a high-level meeting with Health Ministry officials this week. The Prime Minister and Health Minister need to come out clearly against increased privatization plans of provinces.
In addition to its political influence, the federal government can beef-up its enforcement of the rules in the Canada Health Act – especially prohibiting extra-billing by for-profit health care providers that charge the public system and patients directly for extra services. The five central principles of the Act may also be undermined by an increasingly fragmented, for-profit health care delivery system.
---
Support the Canadian Health Coalition
---
The Canadian Health Coalition is part of a chorus of voices raising concerns.
NDP Leader Jagmeet Singh said, "It's becoming very clear now that we are in a very serious crisis and it is not good enough for premiers to start talking about creative solutions when their solution is to privatize our health care system," reported Global News.
Dr. Naheed Dosani, Dr. Bernard Ho, and Dr. Amit Arya of Canadian Doctors for Medicare wrote in the Toronto Star, "Shifting the priority from patient care to sweetening shareholder profits creates an incentive to cut corners, which undermines quality care. Ultimately, patients are the ones that suffer, in some cases, with their lives."
A new report by the Canadian Centre for Policy Alternatives and the B.C. Health Coalition says private health care businesses are flourishing in part because the B.C. government has been awarding them millions of dollars in contracts to provide services while not holding them legally accountable for unlawful billing practices that are prohibited under the Canada Health Act and B.C. Medicare Protection Act.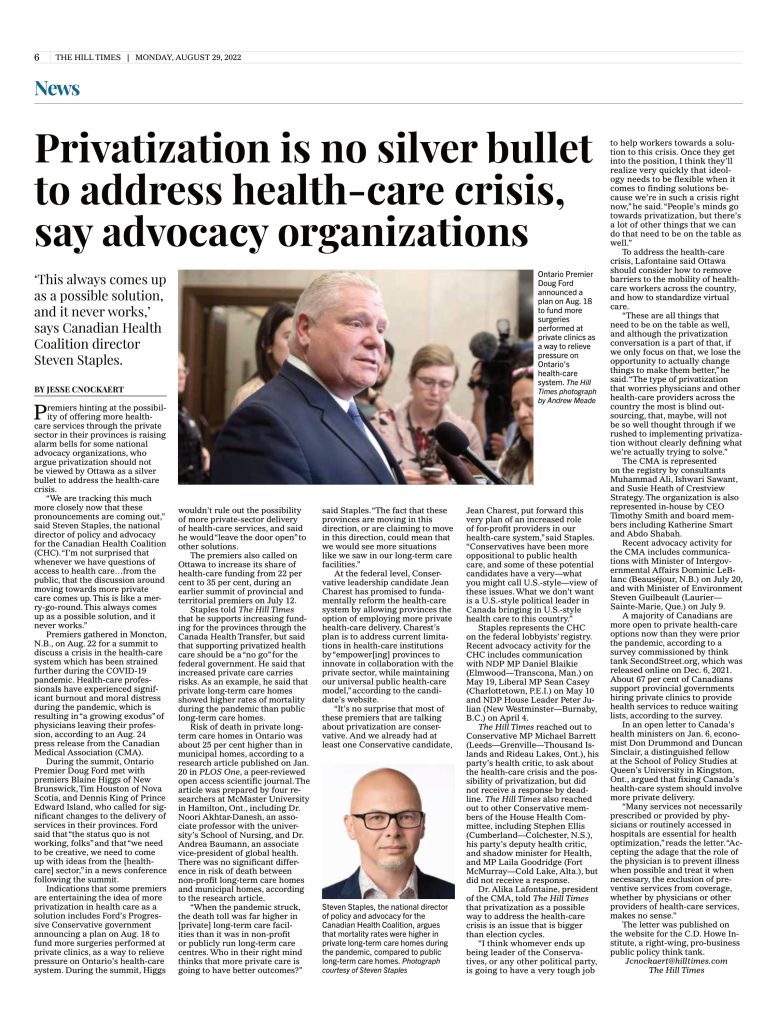 Cover: Prime Minister Justin Trudeau met with the Premier of Ontario Doug Ford to discuss shared priorities. August 30, 2022. Via twitter.com/canadianPM