Health coalitions to rally against privatization outside premiers' meeting in Winnipeg
Health Coalitions across Canada are calling on Prime Minister Trudeau to rein in provinces that are extending privatization of public hospital services as the premiers gather in Winnipeg for their Council of Federation meeting.
The Manitoba Health Coalition and the Canadian Health Coalition will host a rally in Winnipeg on Tuesday, July 11 at 11:45 AM to 1:00 PM outside the Upper Fort Garry (Broadway & Main) to support public health care workers, and oppose privatization.
Rally speakers include Thomas Linner with the Manitoba Health Coalition, Steven Staples with the Canadian Health Coalition, Bea Bruske, president of the Canadian Labour Congress, Linda Silas, president of the Canadian Federation of Nurses Unions, Darlene Jackson, president of the Manitoba Nurses Union, Gina McKay, president, CUPE Manitoba, and Kyle Ross, president of Manitoba Government and General Employees' Union (MGEU).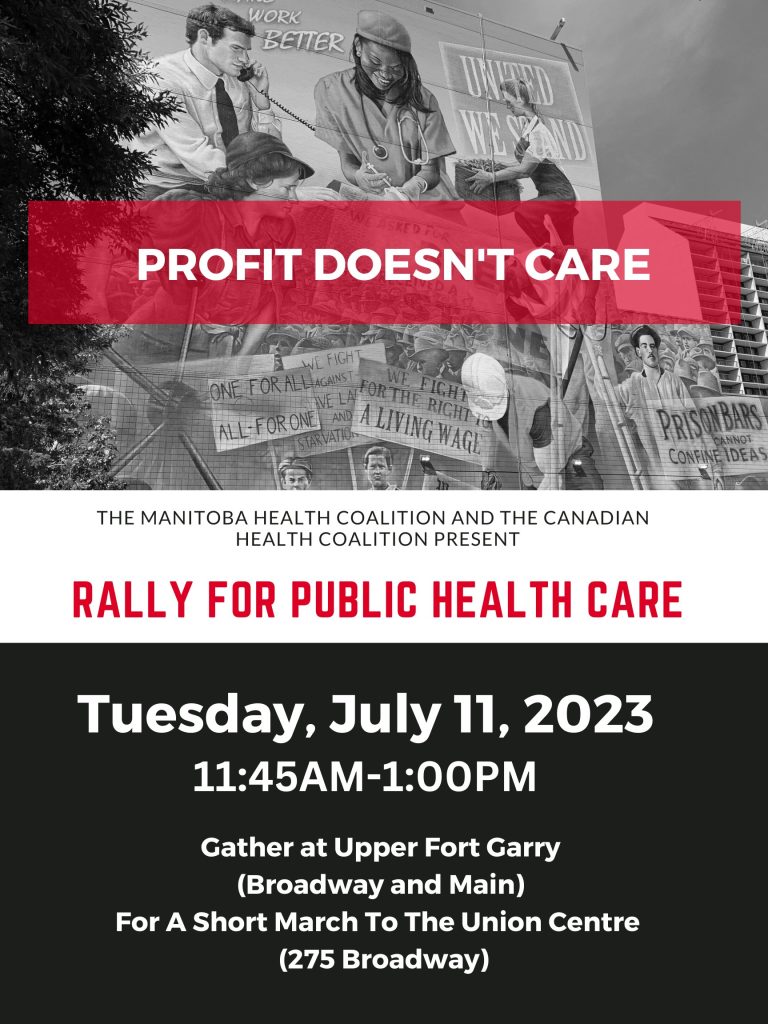 ---
The Canadian Health Coalition's Steven Staples will be speaking at the rally and will be calling for:
Federal leadership to rein in health services privatization by premiers
Assurances the new federal funding in Budget 2023 is accountable, improves working conditions for front-line care providers, and is not squandered on for-profit private delivery of insured health services
Boosted enforcement of the principles of the Canada Health Act to protect Canadians from extra-billing and user fees
The feds to work with the provinces to expand public health care, such as long-promised pharmacare that covers everyone.
According to Health Canada, eight provinces paid sanctions of more than $82 million for charging patients for medically necessary services that should have been covered by Medicare at no cost from 2020-2021.
Increasing the use of for-profit clinics will further the unlawful extra-billing of vulnerable patients. Some of these clinics have been taken to court by the BC Medical Services Commission for unlawfully charging patient extra fees. Under Bill 60 in Ontario, patients are increasingly reporting paying exorbitant charges for medical procedures that should be covered under their Ontario Health Insurance Plan (OHIP).
Beyond charging user fees and extra-billing, privatization of health care leads to longer wait times in the public system as staff and resources are pulled away. For-profit delivery of care has proven time and time again to be more expensive while delivering lower quality of care.
The provinces must implement public health care solutions to the health care crisis. These solutions exist, as documented in Andrew Longhurst's solutions series published by the Canadian Health Coalition. For instance, provinces can and should support the scaling up of team-based care delivered through a single-entry model for surgical referrals.
Tracy Glynn is the National Director of Projects and Operations for the Canadian Health Coalition