Manitobans want public health care improved, not privatization
By Pat Van Horne, USW member of the CHC Board of Directors
A recent poll found a majority of Manitobans say improvements to health care in the province require the public health system to hire more staff and purchase more equipment in the wake of the COVID-19 pandemic.
Only 24 per cent of Manitobans polled by Probe Research support private health care, as reported by the Winnipeg Free Press.
The poll, commissioned by CHC-affiliated Manitoba Health Coalition (MHC), showed that 68 per cent of respondents want hiring, training and equipment purchasing to take place within the public health care system.
Two-thirds of Manitobans believe health care changes implemented by the provincial Conservative government in 2017 have made health service delivery "worse" or "much worse."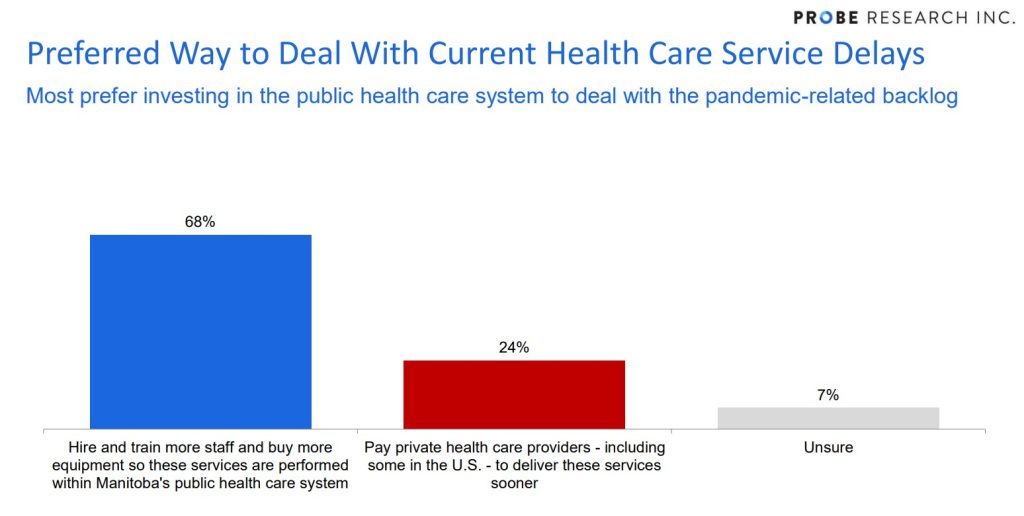 "We were not surprised at all by the findings," said MHC Director Thomas Linner. "But it is a little more overwhelming that we thought it would be." Linner added that the poll also confirms that Manitobans do not believe the solution is not to opt for private health care and instead to strengthen universal public health care.
Manitoba Nursies Union President Darlene Jackson says the return to hallway medicine is not news to anyone working in health care.
"A hospital bed is just a bed without a nurse," she said, adding that the Conservative government, now led by Heather Stefanson, should consider how she and her government will be remembered in the next provincial election. "Is a profession of broken health-care workers to be her legacy?"
The poll of 1,000 Manitobans was conducted between March 9 and 21, and is accurate within plus or minus 3.1 per cent with 95 per cent accuracy.
The full results of the poll are available from the Manitoba Health Coalition.