Ontario long-term care bill changes little: Steelworkers
The Ontario government's proposed "Fixing Long-Term Care Act" does little to change current care deficiencies in the province, says the United Steelworkers (USW).
By Pat Van Horne, USW member of the CHC Board of Directors
---
USW represents health care workers in both for-profit and not-for-profit facilities throughout the province. A submission to the Standing Committee on the Legislative Assembly studying Fixing Long-Term Care Act, 2021 cites hours of care, staffing and enforcement as areas that do little to change the status quo, despite recommendations made by Ontario's Long-Term Care COVID-19 Commission in 2020.
"The proposed legislation misses the urgency and magnitude of the changes necessary. . . and fails to recognize staffing as the most important challenge facing long-term care in Ontario," says the USW submission, adding that the bill as proposed changes nothing for workers or residents in the province's 630 facilities.
Without definition, a reference to "mission-driven organizations" appears to support for-profit care as it currently exists, even though for-profit facilities were revealed as more deficient, especially in the first wave of COVID-19 infections. Meanwhile, hours of care as outlined in the bill are slow and without consequence if operators fail to meet targets.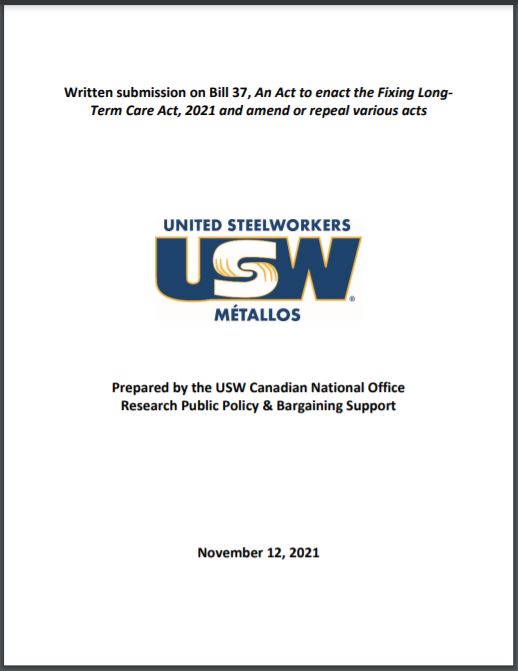 "The proposed legislation misses the urgency and magnitude of the changes necessary. . . and fails to recognize staffing as the most important challenge facing long-term care in Ontario."
"The proposed legislation is lacking on three counts," says the USW submission. " The implementation schedule is much too slow; the method for calculating average hours-of-care makes effective monitoring impossible; and there is a total lack of consequence for failing to meet care targets."
The Ontario Long-Term Care COVID-19 Commission grimly noted that the four-hour, standard of care target is based on current needs and a staged approach "likely means that the vast majority of current residents will have passed before the four-hours daily care is fully implemented."