Webinar: Expanding the Medicare Umbrella with Chris Gallaway and Pauline Worsfold
You are invited to a Zoom webinar hosted by the Alberta Federation of Labour (AFL).
When: October 25, 2022 12:00 to 1:00 PM Mountain Time/ 2:00pm to 3:00pm ET
Topic: Virtual Lunch & Learn: Expanding the Medicare umbrella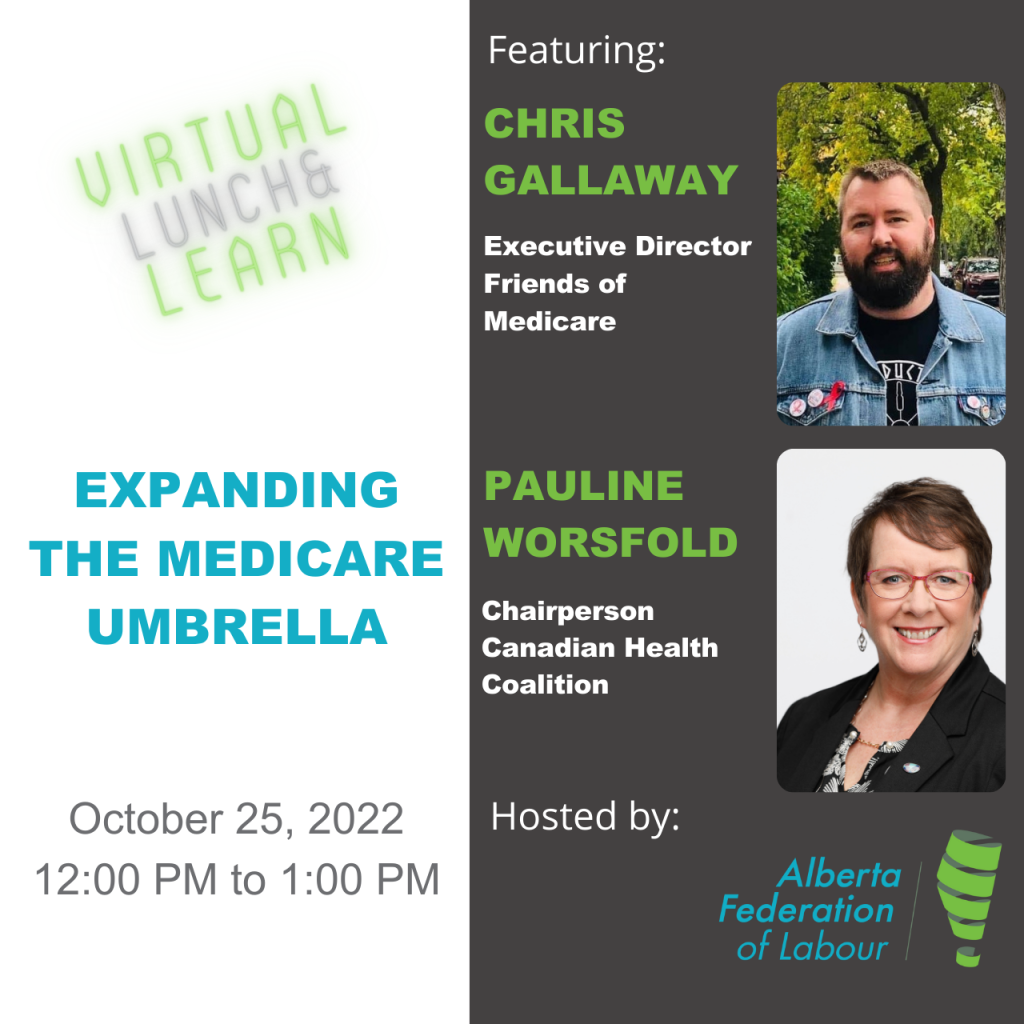 Featuring:
Chris Gallaway, Executive Director, Friends of Medicare
Pauline Worsfold, RN, Chairperson, Canadian Health Coalition
Join the AFL for the next virtual lunch and learn on October 25, 2022, about "Expanding the Medicare umbrella."
From the AFL:
Over the last 2 years, we have witnessed extreme pressure on our health care system. Our ICUs are overwhelmed, people are waiting for long times for surgeries, our long-term care centers have become more like warehouses for the elderly, and people are struggling to pay for prescriptions, and eye and dental care.
At this session, we will hear from two leading advocates in the field to discuss the opportunities to improve our current system. Chris Gallaway is the Executive Director for Friends of Medicare, and Pauline Worsfold is Chair of the Canadian Health Coalition, and the Secretary-Treasurer of the Canadian Federation of Nurses Unions.
Pre-registration is required and in the meantime if you have any questions or comments, please contact MC Breadner, the AFL Director of Government Relations and Political Action. We look forward to seeing you there!
After registering, you will receive a confirmation e-mail with instructions on how to join the webinar.