Abortion to abolition: Martha Paynter discusses reproductive justice in Canada in new book
Martha Paynter grew up in Fredericton when Tuesdays were marked by anti-choice pickets outside the Morgentaler Clinic. She volunteered as a clinic escort, getting patients quickly and safely through the doors of the clinic, acting as a shield for people seeking a medical procedure, an abortion.
Fast forward to 2022 and the Morgentaler Clinic that specialized in providing abortion care is now Clinic 554, an award-winning family doctor's practice known for abortion and trans care, and Martha Paynter has just defended a PhD in nursing and is the author of the new book, Abortion to Abolition: Reproductive Health and Justice in Canada.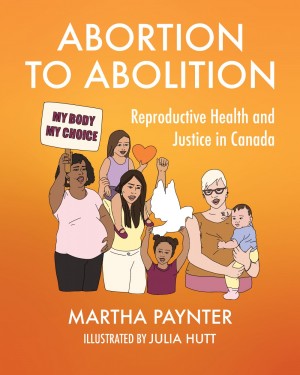 Paynter will be discussing her book on Zoom on Wednesday, November 30 at 7:30pm Atlantic time/6:30pm ET. The public talk is part of the Tertulia series, a kind of philosophy cafe aimed at getting big ideas of big thinkers outside the classroom, and is co-hosted by Reproductive Justice New Brunswick, an organization featured in Paynter's book.
The big thinkers of reproductive justice found in Paynter's book include Loretta Ross, a Black feminist in the U.S. who coined the term reprocide to describe the systemic genocide executed through reproductive oppression, such as forced sterilization of Indigenous and Black peoples and prisoners. Paynter also draws on abolitionist thinkers, including Angela Davis.
Paynter weaves together stories of bodily autonomy, abortion activism and parenting while in the carceral system to tell a history of struggle for reproductive justice in Canada. The characters finding a place in Paynter's account are further brought to life through Julia Hutt's illustrations.
Paynter begins her book by telling the stories of five people fighting for bodily autonomy in different ways. Her analysis is informed by years spent working as a registered nurse specializing in abortion and postpartum care.
"'Choice' sounds easy, even flippant. Reproductive decision-making is much more complicated. Contraception fails, relationships become abusive, jobs are precarious. The environment is in catastrophe. The police are killing children," writes Paynter on page 11.
Readers learn of Heidi Rathjen's decades-long struggle for gun control legislation following the Montreal Massacre that killed 14 women at École Polytechnique in 1989. Rathjen was a student at the time of the massacre.
Justice Claire L'Heureux-Dubé is described as a fierce judge who "condemned misogynistic tropes" in previous court decisions on sexual violence. Synthia Kavanaugh's fight for gender-affirming health care for prisoners comes next and is followed by an account of Terri-Jean Bedford's efforts to decriminalize sex work.
The chapter ends with Santina Rao's story. In 2020, Rao, a 26-year-old Black mother, was shopping with her two toddlers at a Walmart in Halifax when she says she was racially profiled and assaulted by security guards and the police accusing her of shoplifting. She had placed $6.50 worth of produce, including a grapefruit, in the bottom rack of her stroller. The encounter with the security guards and police left her with a broken arm and a concussion. Here, Paynter makes a strong case against carceral feminism. For Paynter, policing, prosecution and prisons are not solutions to gendered violence.
Based in Halifax, Paynter is the founder, former chair and current director of research of Wellness Within: An Organization for Health and Justice, an organization in Nova Scotia dedicated to advancing reproductive justice for people experiencing criminalization. In her book, Paynter describes the intergenerational harm done to parents and children separated by incarceration.
From reproductive oppression to reproductive justice
In the section of the book called, "Not Having Children," Paynter tells stories of great personal sacrifices that led to extending reproductive health care across Canada. Chantal Daigle is among those whose story is told. 
Daigle was only 20 years old when her struggle to have an abortion in Quebec went to the Supreme Court of Canada. She was the subject of sensational national news that often sided with her former partner who wanted her to stay pregnant and give birth. In the end, the court ruled that the fetus does not have rights before the law and the only one who gets to make decisions about an abortion is the person who is pregnant.
The book then moves on to describe recent movements for abortion access in New Brunswick and PEI.
Earlier this year, Paynter told rabble.ca: "New Brunswick has always had, since 1810, the most restrictive and conservative approach to abortion access." Today, the province's Medical Services Payment Act still prevents Medicare-funded abortions outside hospitals, the only such law in Canada. The regulation was put into place in 1989 by the Liberal government of Frank McKenna, who said, "Morgentaler will have the fight of his life," if he tried to open an abortion clinic in New Brunswick.
The Canadian Civil Liberties Association is currently suing the New Brunswick government over the regulation that today's Liberal Party no longer supports. The case centers around the regulation restricting abortion access and violating both the Canada Health Act and the Charter of Rights and Freedoms.
Another opportunity for an expansion of reproductive health care is found in the Liberal-NDP agreement that promises universal pharmacare in 2023. In May, NDP Leader Jagmeet Singh called on the Canadian government to launch pharmacare with free birth control. Singh also said that more community-based clinics and hospitals offering reproductive health care are needed closer to people's homes to ensure access to services.
Reproductive justice is not only about access to contraception and abortion, it's also about parenting with dignity. The second half of Paynter's book tells stories of what it means to parent safely and give birth and parent while incarcerated.
The book ends with a vision for reproductive health and justice. As Paynter poignantly writes:
It matters that abortion at Clinic 554 still goes unfunded, violation of the Canada Health Act be damned. That Indigenous and Black communities face forced sterilization, violent child removal, and police brutality. That those without citizenship status face the threat of deportation. That queer people face discrimination and aggression. That access to reproductive technologies is unequal, classist and ableist. That sex workers are criminalized and endangered. That the brave people who defend the land and water–the literal stuff our lives depend on –face state opposition.

MARTHA PAYNTER IN ABORTION TO ABOLITION: REPRODUCTIVE HEALTH AND JUSTICE IN CANADA
Paynter wants us to celebrate the hard won gains for reproductive health care access in Canada, but she also calls on us to be mindful that ongoing reproductive oppression is the work of colonialism and that it is imperative we connect our struggles.
Photo: The Fredericton Youth Feminists and others supporting Clinic 554 in 2015.
Tracy Glynn is the National Director of Projects and Operations for the Canadian Health Coalition