Corporations want your blood: a webinar
The Canadian Health Coalition's monthly webinar is about the growing threat to Canada's blood supply from corporations making huge profits from buying and selling plasma.
Ounce for ounce plasma products are more valuable than gold.
Guests Michèle Brill-Edwards, a former senior Health Canada regulator and whistle-blower on drug and blood safety and semi-retired emergency physician in Ottawa, Kat Lanteigne of BloodWatch and Daniel Légère of the New Brunswick Federation of Labour will join host Anne Lagacé Dowson, of the Canadian Health Coalition.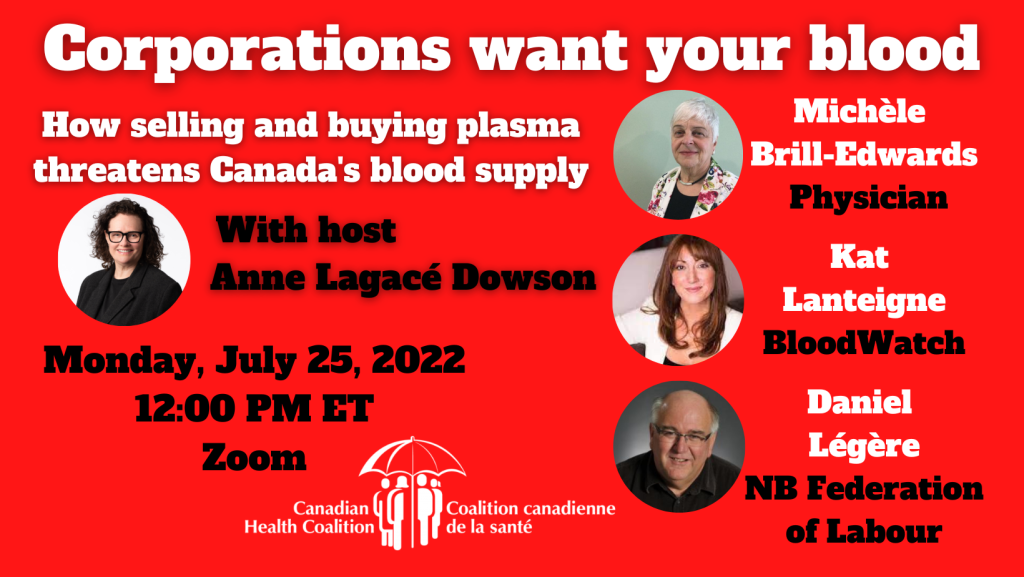 Guests will discuss the ways selling and buying plasma are especially damaging to marginalized communities putting the Canadian blood supply at risk, and lessons learned from the HIV-tainted blood scandal of the 1980s-90s.
Monday, July 25, 2022 at 12:00 PM ET/1:00pm AT on Zoom.
---
---
Share our Facebook event.
Join us on July 25 to find out how we can protect Canada's blood supply.

For more information, contact Tracy Glynn at tglynn@healthcoalition.ca.