Council of Canadians poses candidates questions on long-term care and "Big Pharma"
The Council of Canadians is urging its many thousands of members and supporters to press candidates on long-term care, pharmacare, and other vital issues.
In a letter to supporters, Director of Campaigns and Organizing Christina Warner said they are kicking their work into high gear for this election.
"We'll be working to support our chapters, members, and supporters like you in hosting and participating in all-candidates debates and writing letters to editors concerning our key issues – the climate crisis, long-term care, water, the power of Big Pharma, proportional representation, and Indigenous rights," she said.
The Council of Canadians is a member of the Canadian Health Coalition represented by Christina Warner on our Board of Directors.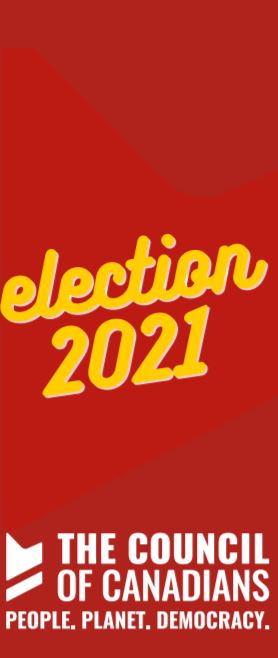 Council of Canadians members and supporters were sent a helpful brochure with critical questions to be posed to local candidates.
Long-Term Care:
What is your position on removing profit from long-term care?
Will you commit to working towards federally-regulated & enforceable national standards for long-term care?
Big Pharma:
What will you do in the face of Big Pharma's bullying tactics?
What will you do to help get pharmacare across the finish line?
Will you commit to supporting legislation to lower the cost of patented drugs?
Will you support an intellectual property waiver to ensure countries that don't have the vaccine currently can manufacture and distribute it on their own?
You can learn more on the campaign website: http://www.canadians.org/election2021