Health Coalition joins frontline workers rallying for public health care outside Liberal MP retreat
Advocates from the Canadian Health Coalition and CUPE New Brunswick representing frontline health care workers rallied near where Prime Minister Justin Trudeau and the Liberal caucus were gathered in St. Andrews, New Brunswick on Monday, September 12 to send a message to the federal and provincial governments: save public health care.
The advocates and long-term care workers gathered held a large banner that said, "Save public health care," and signs that said, "Justin Trudeau, protect our public health care. No to privatization." The rally received honks of support from drivers, including from workers transporting hospital linens.
In an interview with Global, I said, "We are here today to send a strong message to Prime Minister Justin Trudeau and the Liberal Caucus that they need to move on universal pharmacare, on safer long-term care, on more accessible dental care."
---
Support the Canadian Health Coalition
---
The Liberal-NDP Confidence and Supply Agreement includes plans to make dental care accessible to low-income Canadians, starting with children and seniors. The agreement also promises life-saving universal pharmacare, safer long term care and frontline health care investments.
While all the Liberal MPs were invited to meet with the crew advocating for public health care, Saint John MP Wayne Long was the only MP to meet the advocates. He told those gathered that he did not support a two-tiered health care system.
"There is no room for profit in health care," CUPE NB president Steve Drost told Global. "All Canadians deserve good quality health care."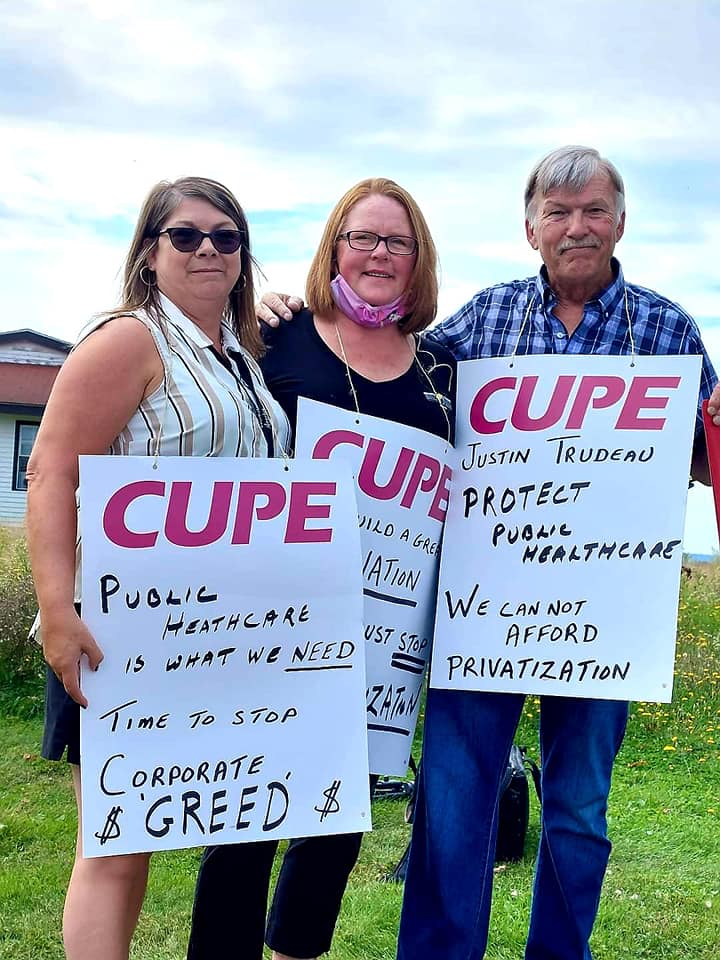 The New Brunswick Higgs government like the Ontario Ford government have said that they are looking into private delivery of health care as an option to address the health care crisis. Drost says that private delivery would pull workers out of the public health care system that is already suffering a shortage.
On the top of the minds of those gathered at the rally was breaking news of a 26-year-old woman being turned away from Fredericton's Dr. Everett Chalmers Hospital on the night of her sexual assault back in August because there was no nurse trained in conducting sexual assault exams working that night.
The New Brunswick Nurses Union is telling the public to blame the system and not the nurses. Paula Doucet, president of the NBNU, told the Telegraph-Journal on September 13 that support, training, education and more professional staff are needed, adding that "New Brunswickers deserve better. Nurses deserve better."
Part of the Liberal-NDP Confidence and Supply Agreement promises more primary care doctors and nurses.
Tracy Glynn is the National Director of Projects and Operations for the Canadian Health Coalition