How the NDP-Liberal deal has redrawn the map to Budget 2023
Public health care advocates are cautiously optimistic that the recently signed Confidence and Supply Agreement between the Liberals and the NDP could result in the greatest expansion of public health care in a generation. The three-year, four-budget deal has already advanced a new public dental program, and other health care programs are in the offing.
It's a completely different political landscape this year than it was last year. In 2021, public health advocates were frustrated by the federal election, a disappointing Economic and Fiscal Update, and an underwhelming Throne Speech from the Liberal minority government under Prime Minister Justin Trudeau.
But in March this year, the Liberal-NDP deal gave new momentum to long-standing demands for an expansion of the public health system – especially dental care and a national drug plan to provide free medicine to everyone in Canada, known as pharmacare.
Looking ahead to next year's Budget 2023, public health care advocates will be pressing their budget demands with the commitments of the deal behind them. The NDP will play a key role in ensuring the Liberals deliver on their health care commitments and have pledged to collaborate with organizations such as the Canadian Health Coalition.
Coalition members' recent federal budget demands
The Canadian Health Coalition comprises frontline health care workers' unions, community groups, and experts.
The Canadian Labour Congress (CLC), a Canadian Health Coalition member, set out 10 priorities for Budget 2022. At the top of the list the CLC called on the federal government to, "Expand funding for Canada's health care system, with dedicated transfers for investments to address the staffing crisis in the sector, a national dental care program, public and not-for-profit long-term care, and mental health care," it said in an April 2022 release. "A multi-year commitment to implement a national pharmacare program beginning with $3.5 billion in 2022-23 and increasing incrementally in subsequent years to implement a national essential medicines formulary, as the first step towards implementing a full national, universal, single-payer pharmacare system."
---
Support the Canadian Health Coalition
---
Unifor, Canada's largest private-sector union and member of the Canadian Health Coalition, recommended in its pre-budget 2022 submission that the government, "Keep its promise and immediately institute a national, universally accessible pharmacare program in consultation with provinces and territories; and provide immediate funding and coordinate with the provinces and territories to ensure that all laid-off workers become eligible for coverage under existing provincial drug plans as an emergency measure."
Days before the release of the government's Economic and Fiscal Update in the fall of last year, the Canadian Health Coalition and twenty other organizations and experts signed a joint statement urging Prime Minister Justin Trudeau, Deputy Prime Minister and Finance Minister Chrystia Freeland and other Ministers to implement the 2019 Final Report of the Advisory Council on the Implementation of National Pharmacare, also known as the Hoskins Report.
"The Economic and Fiscal Update and Budget 2022 are opportunities to demonstrate in a concrete way that the Liberal government will keep its promise on pharmacare," urged the signatories. "Canadians hope to see a firm financial commitment of – at a minimum – $3.5 billion towards essential medicines coverage as recommended by the Advisory Council."
The Economic and Fiscal Update devoted $4.5-billion to address the pandemic and the newly emerging Omicron variant of COVID-19, and made no mention of the government's longstanding commitment to pharmacare. Likewise, the subsequent Speech from the Throne set out the agenda for the 44th Parliament without a mention of pharmacare.
The Canadian Health Coalition responded on Twitter: "#Thronespeech promises "Action on our collective health and well-being," but where is action on health care crisis? #Pharmacare? #LTC? Exhausted health care workers and everyone in Canada need federal leadership for a stronger public health care system."
Story continues below
---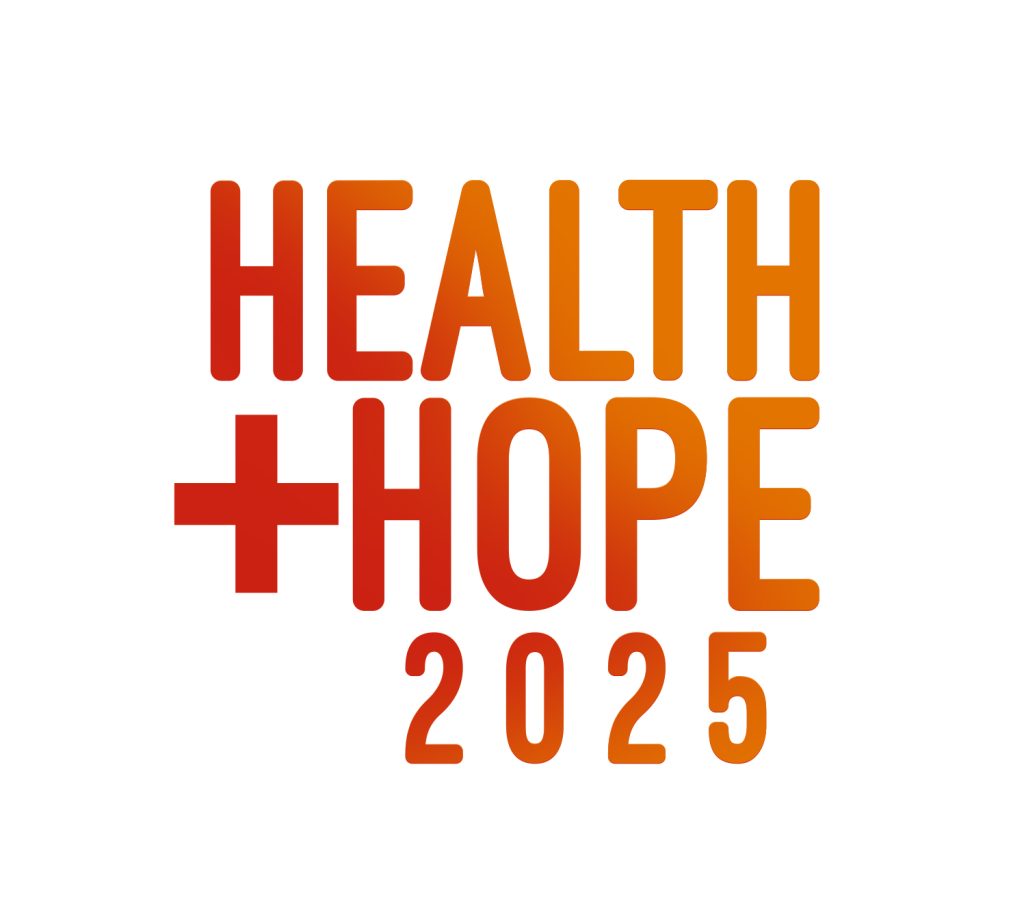 Liberal election commitments delayed, or derailed?
During the 2021 general election, Justin Trudeau made health care – especially fixing long-term care – a hallmark re-election commitment.
The Liberal platform promised "Better health care. For everyone." It included support to hire 7,500 doctors and nurses, better care in long-term care, working to hire 50,000 PSWs and raise their wages to $25 an hour, and publicly accessible mental health care. For long-term care, still reeling from horrors of the pandemic, the Liberals promised to "work collaboratively with provinces and territories, respecting their jurisdiction, to continue supporting seniors with an investment of $9 billion over 5 years."
But last winter the Liberal government found itself being pommelled by an Omicron-fueled pandemic, the literal siege of downtown Ottawa by "Freedom Convoy" protesters, and an international catastrophe sparked by the Russian invasion of Ukraine.
A generous interpretation would be that this triple crisis was preventing the Liberals from delivering on health care commitments made during the previous year's general election. A less generous interpretation would be that, once again, the Liberals cannot be trusted to keep their promises.
Advocates continued to press for health care commitments, especially pharmacare. Outreach to MPs and others seems to start yielding results when pharmacare was included in the Prime Minister's Cabinet Mandate Letter to his new Health Minister, Jean-Yves Duclos; "Continue engaging with willing provinces and territories towards national universal pharmacare, while proceeding with a national strategy on high-cost drugs for rare diseases and advancing the establishment of the Canada Drug Agency."
As the anticipated Budget 2022 release approached, organizations including the Canadian Health Coalition continued to press their budget demands and for the Liberals to make good on their commitments.
The Canadian Health Coalition priorities included the following:
Progress towards Pharmacare, with a firm financial commitment of – at a minimum – $3.5-billion towards essential medicines coverage as recommended by the Advisory Council.
Support for seniors through a Safe Long-Term Care Act with enforceable standards and an investment of $9-billion over five years.
Federal funding for provinces and territories by increasing the federal share of health care spending through (1) the Canada Health Transfer, and (2) programs such as pharmacare and long-term care, with strict reporting mechanisms to ensure accountability in public health care.
But unbeknownst to everyone, including MPs from both parties, high-level talks between the Liberals and the NDP were being held to forge an accord.
Liberal-NDP confidence and supply agreement redraws the political map for Budget 2023
On March 22, 2022 news of the Confidence and Supply Agreement signed by Justin Trudeau and NDP leader Jagmeet Singh hit political-Ottawa like a lightning bolt. The deal would give the Liberals enough stability to remain in power until 2025 with NDP support, in exchange for the government delivering on a list of policy and budget measures supported by both parties.
The deal created a new legislative and budgetary agenda that extended over three years to 2025. An ad hoc executive regime was established between the party leaders, house leaders and whips, trusted senior staff to administer the agreement and fulfil its agreed-upon objectives on the one hand, and to coordinate the NDP's support during crucial votes in Parliament on the other.
The deal breathed new life into long-held health care priorities, such as delivering pharmacare, that had been languishing under government inertia and the pandemic. The party leaders focused their messaging on a new dental care program and pharmacare to sell the agreement to a surprised public. "We're using our power to get help to people," NDP Leader Jagmeet Singh said. "We are getting help for people that need their teeth fixed, we're getting help for people that need to buy their medication and can't afford to."
The Liberal-NDP deal has four health care commitments:
Launching a new dental care program for low-income Canadians starting with children under 12, and increasing coverage of all age groups by 2025.
Continuing progress towards a universal national pharmacare program by passing a Canada Pharmacare Act by the end of 2023, and other measures.
Additional ongoing investments to deliver better health outcomes for Canadians, including more primary care doctors and nurses, mental health support, aging at home, and better data.
Tabling a Safe Long-Term Care Act.
Response to the Liberal-NDP deal was overwhelmingly positive. "This agreement has the potential to deliver significant improvements in public health care for patients, families, and frontline workers," said Pauline Worsfold, RN, chairperson of the Canadian Health Coalition.
Public support has been consistently high, with Nanos Research finding nearly 60 percent of Canadians were comfortable or somewhat comfortable with the agreement even three months after it was announced, confirming polls by other firms which found high approval rates.
The terms of the deal will be delivered over the next three budgets leading to 2025. The agreement includes timelines for the four healthcare deliverables, with dental care coming earliest on the list in 2022, followed by the Canada Pharmacare Act in 2023 and the proposed Safe Long Term Care Act by 2025. Investments for health care will presumably be ongoing over the three-year life of the agreement.
Table 1. Timeline of health care commitments in Liberal-NDP Confidence and Supply Agreement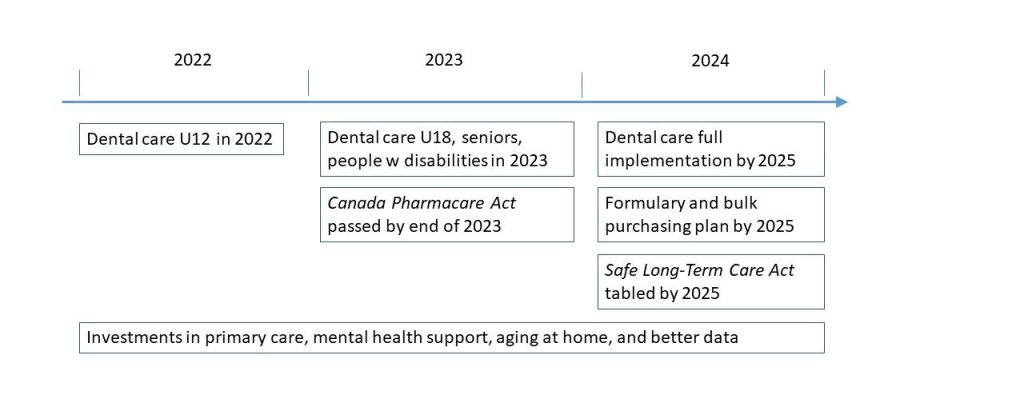 Impact on Budget 2022
Fiscal commitments began rolling out in Budget 2022, released in April. It announced funding of $5.3 billion over five years, starting in 2022-23, and $1.7 billion ongoing, to Health Canada to provide dental care for Canadians. The budget restated a one-time top-up on the Canada Health Transfer to provinces of $2 billion to reduce the backlogs of surgeries and procedures.
Pharmacare was thrown a lifeline with a non-financial budget commitment by the government to it, "ongoing work towards a universal national pharmacare program. This will include tabling a Canada Pharmacare bill and working to have it passed by the end of 2023, and then tasking the Canadian Drug Agency to develop a national formulary of essential medicines and bulk purchasing plan."
However, health care advocates were dissatisfied with the absence of funding to assist the emergency facing front line health care workers that are experiencing burn-out caused by understaffing, also known as the crisis in health human resources.
"We need better from the federal government to support health care workers, to improve working conditions, and to increase staffing levels and wages. Our union has clear expectations for the federal government about what is required for a stronger health care workforce, including greater accountability from the provinces about how they spend federal investments on health care," said a statement by SEIU Healthcare, a union representing health workers.
Noticeably absent from Budget 2022 was a commitment to address long-term care. "Long-term care is barely mentioned in the budget, except referencing the previously announced $4-billion funding commitment. There is no mention of the Safe Long-Term Care Act," said a statement from CUPE.
CUPE researchers note that the Parliamentary Budget Office (PBO) determined it would cost $13.7 billion ($8.5 billion for residential care and $5.2 billion for home care) each year to provide long-term care to everyone who needed it, increase average employee pay and benefits to match those paid by public sector long-term care providers, require an average of 4 hours of care per resident per day and increase home care to 35% of public spending on long-term care.
The stakes are high for Budget 2023
Looking ahead to Budget 2023, public health care advocates will continue to press their fiscal demands, and the Liberal-NDP deal will strengthen their advocacy opportunities in the areas where commitments are made in the agreement.
For instance, groups will continue to call for $3.5 Billion for pharmacare, but will also focus their efforts to shape the promised Canada Pharmacare Act. Organizations agree that the Confidence and Supply Agreement's terms serve as a floor for budget and policy demands, not a ceiling. Some have described their demands as "CASA plus."
And looming above all else is the urgent human resources emergency facing health care workers. "Canada's nurses believe any new funding must be spent on strengthening public health care and ensuring that our ability to deliver safe care is among the best in the world," said the Canadian Federation of Nurses Union in a statement, supporting a call for more federal funding from Premiers.
The federal government's Finance Committee is inviting individuals and organizations to submit their recommendations for Budget 2023 through its annual consultation process. "Each year, the Committee welcomes the opportunity to hear directly from Canadians as part of this important process, and once again, we invite individuals and organizations to provide a written brief with their priorities and proposals for the forthcoming budget," said Mr. Peter Fonseca M.P., Chair of the House of Commons Standing Committee on Finance, in a statement. A report on the consultations will be tabled in the House of Commons and inform the preparation of the Minister of Finance's next budget. Public health care advocacy organizations, including the Canadian Health Coalition, participate in the pre-budget consultation process by submitting written briefs containing evidence-based recommendations for the federal budget. The pre-budget submission plays an important part in their policy advocacy strategy.