Public health care workers and advocates to tell health ministers: stop privatization, pharmacare now!
Public health care workers and advocates will gather outside the meeting of federal, provincial and territorial health ministers at the Rodd Charlottetown on October 12 at 10:00 AM.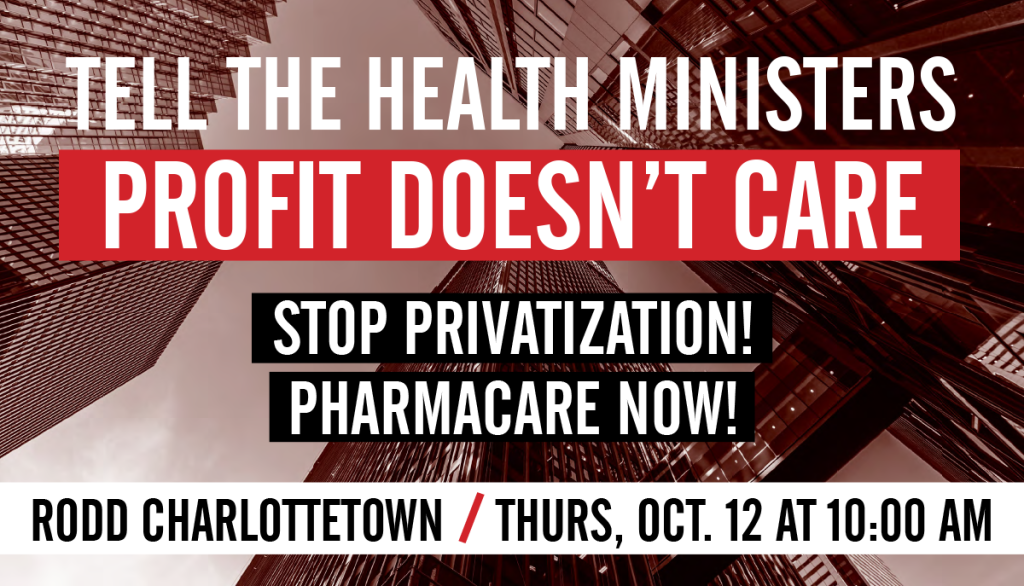 Members of the PEI Health Coalition, Canadian Health Coalition and the Canadian Federation of Nurses Unions will raise a public health care banner and deliver a strong message to stop the privatization of public health services through the use of for-profit, private clinics and agencies. They will call for public dollars to bolster an under-resourced public health care system.
Speakers will also urge the ministers to support a public universal pharmacare program, as promised by the Prime Minister.
What: Health care banner raising, speakers and media availability
When: Thursday, October 12, 2023, 10:00 – 10:30 AM AT
Where: Rodd Charlottetown, 75 Kent Street, Charlottetown, Prince Edward Island
With –
Mary Boyd, Chairperson of the PEI Health Coalition
Linda Silas, President of the Canadian Federation of Nurses Unions (CFNU)
Tracy Glynn, National Director of Operations and Projects, Canadian Health Coalition