This edition of Health files features comments on the meeting of federal, provincial and territorial health ministers in Vancouver and better support for health care providers and caregivers.
Ottawa wants a national health data system in exchange for funding
"In the spirit of collaborative leadership, I'm glad to confirm that the Canadian government is ready to increase health care investments through the Canada Health Transfer. Ottawa is prepared to increase health care funding to provinces and territories if they commit to a national health data system as a measure of accountability," stated Federal Health Minister Jean-Yves Duclos, Globe and Mail, Nov. 7, 2022.
Health care providers united, says Lafontaine
"Canadians are beginning to question if their health systems will be there when they need them. Health-care workers and patients are united in calling on governments to take the steps necessary to stabilize and rebuild our health systems to ensure their survival," said Canadian Medical Association President Dr. Alika Lafontaine in The Canadian Press, Nov. 6, 2022.
Caregivers the unseen backbone of care
"Caregivers are suffering financially, their mental health is suffering. Really, they are the unseen backbone of the healthcare system. For every hour that someone receives in the formal healthcare system, they are getting three hours of unpaid care at home. For most caregivers, it's 20 hours a week.
"It's a lot of care we are providing. It's done out of love and because of relationships, but the work is unseen and unrecognized and the healthcare system is really saving billions by downloading this care. We really need to recognize the situation for caregivers and the role they play," said Liv Mendelsohn, executive director of the Canadian Centre for Caregiving Excellence, Ottawa City News, Nov. 7, 2022.
Good will running low for health care providers
"For a long time, our health systems have relied on our goodwill as health-care professionals. We're doing more and more when we should have stopped a long time ago, but there's no one else. What are you going to do, just let those patients suffer? Of course not," stated Dr. Carllin Man, who works part-time at a walk-in clinic in Burnaby, B.C., as well as in emergency rooms in central Alberta, CTV News, Vancouver, Nov. 6, 2022.
CMA Pres. Dr. Lafontaine says crisis needs a 'deep breath'
"In any crisis, there's the pause that comes after, where people get the chance to take a deep breath and start to think about, you know, do I process what just happened? I don't think we've had that breath yet," said Dr. Alika Lafontaine, president of the Canadian Medical Association, in Global News, Oct. 8, 2022.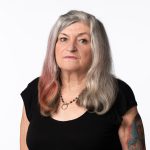 Photo: Dr. Alika Lafontaine, president of the Canadian Medical Association.