Meet Farhiya Mohamed, the Canadian Health Coalition's Policy Youth Fellow this summer
Farhiya Mohamed has joined the Canadian Health Coalition team this summer as our Policy Youth Fellow. Here Farhiya answers our questions about her, the fellowship and what she thinks about health care in Canada.
---
Tell us about the Policy Youth Fellowhip?
The Policy Youth Fellowship program (PYF) at Urban Alliance on Race Relations (UARR) is a policy internship program that provides motivated students the opportunity to complement their academic studies with hands-on experience working with various organizations in sectors such as arts, public policy/government, legal, and environment. Fellows have the opportunity to contribute to work on advocacy, case work, policy, research, administrative support, communications and event planning. The Policy Youth Fellowship program provides a unique opportunity for youth who experience multiple systemic barriers to equitably participate in civic engagement and workforce development opportunities.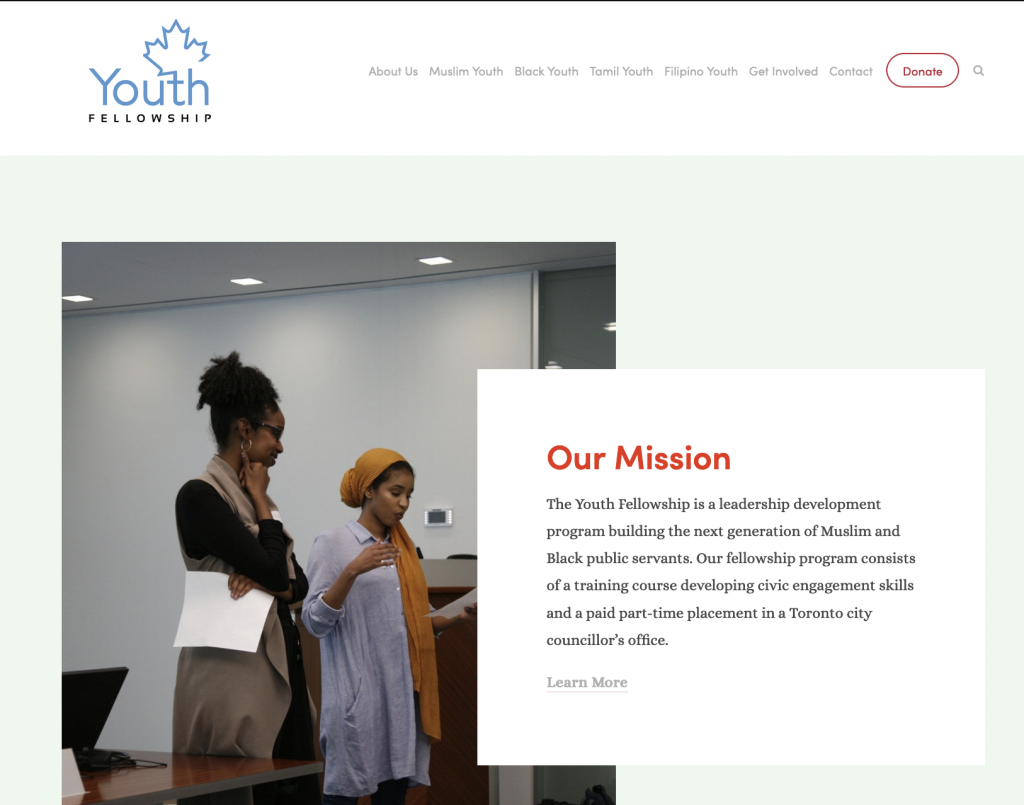 How did you hear about the Policy Youth Fellowship and why did you apply?
I have always had a strong interest in the social determinants of health. Working in various health care environments led me to understand that in order to effect real change, I need to pursue a career in public policy. This led me to look for opportunities to gain more experience in policymaking. Eventually while searching through LinkedIn I found a post by UARR about the Policy Youth Fellowship. After doing more research, I learned that this was the exact experience I need. The program includes both a placement and a few seminars with policymakers in Ontario. I've learned a lot from this program already, and look forward to learning more as my placement progresses.
How did you hear of the Canadian Health Coalition?
I was first introduced to the Canadian Health Coalition (CHC) by the program coordinator at UARR. I was informed it was a health policy focused organization. Upon further investigation, I found out that CHC's goals align perfectly with mine. CHC is a public advocacy organization dedicated to both the preservation and improvement of public health care in Canada. In essence, that is what I hope to contribute to as well. I view CHC as an organization that is making waves to support the health and well-being of people in Canada and I am excited to be part of the team!
What are you hoping to do while working with the Canadian Health Coalition during your fellowship?
Through this fellowship, I hope to gain a deeper insight into policymaking, make meaningful connections, and gain hands on experience in policy. An extensive amount of my work experience has been in the health care field and the not-for-profit sector. Throughout my career, I have worked in hospitals, Toronto Public Health offices and not-for-profit service organizations. I have an extensive background in health care, and hope that after this experience my skills in policymaking will match. I hope this fellowship will provide me the opportunity to better advocate for people in my community and break down some of the systemic barriers they experience.
Of all the fields you could have turned your attention and skill to, what made you choose health care?
I am a firm believer that health does not start with medical care, but rather, health begins in our environments. Therefore, the conditions of our health care are shaped by a multitude of determinants of health. Growing up as a Black Muslim woman in Toronto, I was always aware of the disparities and microaggressions against members of my community and myself, but did not understand the full capacity of it. I was first introduced to the concept of public health during a class called Social Determinants of Health at York University. My professor highlighted the influences on health including distribution of wealth, education and power dynamics related to gender, race, and sexuality, among others. However, prior to this course, I had no awareness of how it impacted my health and the health of my community. This lecture forever altered my perception of health and exposed me to the intricacies between public health care and society. Witnessing the disparities among access to quality health care firsthand has deepened my passion for pursuing a career in public health research.
You are currently working on mental health with underserved communities in Toronto. What does that entail?
At present, I hold a leadership position as a Health Access Coordinator at Progress Place/Community Place Hub. This is a space aimed to provide mental health and social support to some of the most vulnerable members in the Weston Mount Dennis community. I am responsible for maintaining relationships with over 20 partner agencies in the Weston Mount Dennis area. I lead a meeting once a month with over 20 decision-makers where we share resources and knowledge exchange on strategies to better serve the needs of the community. I have organized numerous events to highlight supports that exist in the neighborhood for community members. One of my biggest responsibilities is to support community members with navigating these existing supports (such as primary care) to help minimize the use of ERs. Currently, we are advocating to get rent control for apartment buildings in Weston as members in the community are facing seriously aggressive gentrification.  
Did you consider studying medicine or another health care profession? Do you come from a medical family?
No, I do not come from a medical family. However, when I was a child, I genuinely wanted to be a doctor. Being the oldest in my family, I naturally have always had an affinity for helping people. I used to see my doctor give my siblings and I needles and follow-up with lollipops. This made me genuinely love medicine. It wasn't until after being required to dissect a frog for my grade 12 biology class that I realized I do not have the stomach for medicine. However, I still wanted to advocate for quality accessible healthcare for all. During my undergrad, I learned about social determinants of health and discovered a world of policy. I learned there was world of health care beyond clinical and discovered a genuine passion for it.
What is your plan for the future? Do you have one or is it too soon? 🙂
It's never too soon to dream for the future! I hope to pursue a Masters degree in Public Policy. My hope is to pursue a career in public policy where I develop policies that aim to eliminate disparities among racialized groups. I have always been passionate about health equity and getting resources for equity deserving communities like mine. Policymakers can affect real change in the rules that govern and impact everyday life. I want to be a part of the bigger conversation and help make a difference. I am passionate about working to improve the health and overall well-being of people from racialized communities, while also tackling disproportionate social determinants of health. I believe I can achieve this goal with a career in policy.
What do you see as the biggest challenges for young people in your field?
The biggest challenge I experienced in this field is gaining hands-on experience. My degree was all theory with no opportunities for internships. This makes it exceptionally hard for new graduates attempting to enter the workforce. Having more opportunities to gain practical experience would support us to be successful in future roles.
What do you see as the biggest challenges for Canada's public health care system?
There are a number of concerns for Canada's public health care system. However, I think one of the most pressing concerns is the idea of privatizing our health care. The Canadian public health care system is already unsustainable, privatizing would further exacerbate the existing problems while adding new ones. The effects will be damaging to all public hospitals and the public.
What do you do in your off hours when you are not a fellow? Hobbies? Favourite movie, book?
I love trying out new things and gaining new experiences! From learning how to create candles to jet skiing, I love getting out of my comfort zone and trying new things. I also consider myself a foodie and enjoy going to new restaurants. I am also currently interested in improving my health and wellness. For me, that looks like working out more and being more active in my life. I also enjoy travelling when I can!