Saying goodbye to Nell Toussaint — a health care hero for undocumented migrants in Canada
While not yet a household name in Canada, anyone paying attention to inadequate access of health care for people with precarious immigration status in Canada knew Nell Toussaint.
Toussaint died in a Toronto hospital on January 9 of heart failure, after experiencing cardiac arrest and falling into a coma last November.
Andrew Dekany, her lawyer, told The Star: "I think of her as a role model, as someone who is very courageous and steadfast, and as an inspiration for me and for others."
"Ms. Toussaint bore injustice in her bones throughout her life but refused to let it define or silence her," said Ketty Nivyabandi, secretary general of Amnesty International Canada.
Toussaint's struggle to access health care brought to life the slogan "health care delayed is health care denied."
Being denied timely access to treat her diabetes cost Toussaint her vision, a leg and her kidneys, according to her advocates. She suffered a stroke and fell into a coma more than once, then, at the age of 54 years old, her heart stopped beating.
While Toussaint struggled to access health care and dealt with debt collection agencies wanting payment of hospital bills she could not afford, she blazed a path for health care access for all the undocumented in Canada.
"Undocumented to undeniable"

Nell Toussaint was a towering force for justice, and always shall be.https://t.co/OZUDv75myv via @torontostar

— Alex Neve (@AlexNeve24) January 21, 2023
After getting nowhere with Canada's justice system, Toussaint took her fight to the UN Human Rights Committee, where she argued Canada had violated her right to life and her right to non-discrimination under the Canadian Charter of Rights and Freedoms.
In 2018, the UN Committee sided with Toussaint and issued a precedent-setting decision that advanced equal protection of migrants and access to essential health care under international law. The Committee said Canada was obligated to offer Toussaint appropriate compensation and to take measures to stop similar violations in the future.
When Canada failed to act on the UN directive, in 2020, Toussaint took Canada to court in Ontario, claiming $1.2 million in compensation and demanding irregular migrants be granted access to essential health care. The Canadian Health Coalition joined the coalition of intervenors in support of Toussaint's charter claim.
Just last summer, an Ontario Judge dismissed the federal government's Motion to Strike Toussaint's claim, denouncing government lawyers for using racist tropes of migrants. A decision on the government's appeal is pending.
Toussaint did not live to see the conclusion of her lawsuit, but her advocates are determined to keep the case alive.
Bruce Porter, the director of the Social Rights Advocacy Centre who represented Toussaint at the UN Human Rights Committee, said in tribute to his friend: "Nell Toussaint, death may have taken you, but it will never take your work, vision and achievements away. Your legacy will continue because of the way you fought for the realization of human rights with courage and tenacity. May you now rest in eternal power."
Some Reflections on my friend Nell Toussaint: July 14, 1969 – January 9, 2022: The Person Behind the Historic Human Rights Casehttps://t.co/nyKJ9qOfGy pic.twitter.com/SYQ9JGA0K0

— bruce porter (@jbruceporter) January 20, 2023
Born in Grenada, Toussaint grew up in Trinidad and Tobago where she was raised by her uncle. In 1999, when she was about 30, she came to Canada as a visitor and stayed. She cleaned houses, took care of children and did factory work. She experienced unscrupulous practices by employers who took advantage of her precarious immigration status and broke promises to help her become a permanent resident.
After years of trying to regularize her status, finally, in 2013, she became a permanent resident based on humanitarian and compassionate grounds. Her status finally made her eligible for Ontario public health care but, by then, her health had been severely compromised.
As Toussaint's legal team sets out to determine next steps for her charter claim, other migrants with precarious status in Canada are raising the torch for health care for all.
A 42-year-old Jamaican migrant worker in Nova Scotia unable to pay for her cancer treatments is currently making headlines.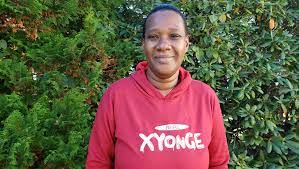 Kerian Burnett's story was shared at the Canadian Health Coalition webinar launch of the Citizens for Public Justice report, "Work, Study, Pay Taxes, But Don't Get Sick: Barriers to Health Care Based on Immigration Status" last December.
Burnett has just completed chemotherapy for her cervical cancer that was discovered shortly after she started working on a strawberry farm in Nova Scotia. She says she owes the province nearly $65,000 after her private health insurance was cancelled. Now, she is worried about the postponing of her CT scan needed to track the cancer.
"I went to the hospital to do a scan and I was denied a scan because of not having a health card," Burnett told the Halifax Examiner.
Last week, Burnett was granted temporary resident status, but she is unclear how or if this will affect her cancer treatments, and whether she still owes the province $65,000 for her chemotherapy.
Burnett's advocates want Medicare on arrival for migrant workers.
Medicare access varies across the provinces and often excludes temporary foreign workers on work permits that last under one year. In Québec, migrant workers get access to health care on arrival. In 2020, the Ontario government issued a temporary directive to give access to Ontario public health care to everyone regardless of status as a COVID measure. Migrant health advocates want this directive to be made permanent.
Burnett, like Toussaint before her, wants health care access to all, regardless of immigration status.
Feature photo: From left-to-right – Bruce Porter, Nell Toussaint and Andrew Dekany celebrate the decision in Toussaint v. Canada, 2022. Photo from Bruce Porter.
Tracy Glynn is the National Director of Projects and Operations for the Canadian Health Coalition